Xn.- Opening Up (SAA1112)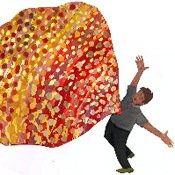 So called anti-guitar guitar music, Chris Schlarb's solo electric guitar project has brought forth its first fruit on the ambient/melodic/spatial axis. All pieces were recorded in one sitting (normally within a 2-3 hours each) and contain roughly five guitars as a kind of minimalist orchestra. Guitars take shape as birds singing, little explosions and thinking machines. With simple treatments and spare- but lush- arrangements these pieces are part of a concerted effort to approach the instrument of electric guitar as a guitar in name only.
The album features unique interpretations of songs by Neil Young ("Round & Round") and Curtis Mayfield ("People Get Ready") as well as three original compositions. opening up is and album full of phasing harmonies and subtle warmth.
Xn. is:
Chris Schlarb- electric guitar, electronics, glass, metals, turntable, bow
Recorded 2002-2003 in the Red Room, Long Beach, CA.
Mixed, Engineered, Written and Performed by Chris Schlarb
artwork by Paul Goode
Track Listing
01. neon pink fetus and the five guitar dream (wishing they were vibraphones and kalimbas)
02. people get ready [mp3]
03. lullaby for elisha
04. round & round
05. neon purple sparrow and the red room whisper system
Press
"a set of tone poems stretched and spindled by solo electric guitar arias"- Fahrenheit
"a fragile and endearing EP, once again demonstrating Schlarb's willingness to stretch the boundaries of what he can and cannot do"- Ink19.com